Daughter of Smoke and Bone by Laini Taylor
Publication Date: September
27th, 2011
Source: Bought it

Synopsis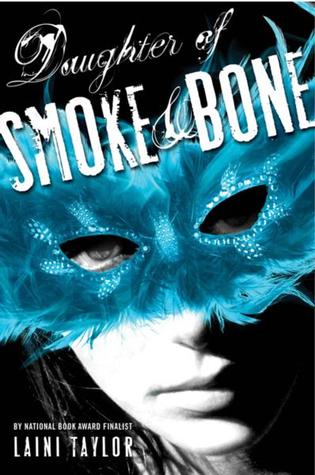 Around the world, black handprints are appearing on doorways, scorched there by winged strangers who have crept through a slit in the sky.
In a dark and dusty shop, a devil's supply of human teeth grows dangerously low.
And in the tangled lanes of Prague, a young art student is about to be caught up in a brutal otherwordly war.
Meet Karou. She fills her sketchbooks with monsters that may or may not be real, she's prone to disappearing on mysterious "errands", she speaks many languages - not all of them human - and her bright blue hairactually grows out of her head that color. Who is she? That is the question that haunts her, and she's about to find out.
When beautiful, haunted Akiva fixes fiery eyes on her in an alley in Marrakesh, the result is blood and starlight, secrets unveiled, and a star-crossed love whose roots drink deep of a violent past. But will Karou live to regret learning the truth about herself?
After seeing many great reviews for this book, I finally decided to pick it up. The blurb sounded really interesting but there was so much hype around this series that I was a bit scared that I wasn't going to enjoy it as much as others...luckily that wasn't the case!
I think that one of my favourite things about this book was the way places were described, especially Prague...I've never been there but it sounded almost magical (and I would be lying if I said I didn't look up flights to Prague while reading the book!).
As for characters, Karou is an amazing main character. She is this really unique, artistic blue-haired girl who lives in Prague and has a group of chimaera as a sort of adoptive family. I found it really easy to connect with Karou and to understand her actions. Plus, I liked how she cared about the other characters and always tried to do the right thing (even if they didn't fully deserve it). Zuzana, Karou's tiny, "rabid" best friend was absolutely hillarious and deffinitely someone I would want to be friends with. Her sarcastic nature truly brought a great energy to the book.
Akiva, the seraph was also quite intriguing. Even though he was brought up in a world consumed by war, he finds it in himself to try to be better. I hope we get more from him in the next book.
Even though I deeply enjoyed this book, I have to say that for me, the last third/quarter of this story was what I least enjoyed. One the one hand I liked the description we got of the other worlds and how the seraph and chimaera societies were organized. It was also interesting to get a bit of backstory on the war and on Brimstone's magic and what exactly he did with the teeth...that part was very imaginative. On the other hand, I didn't care very much for Madrigal's whole story even though I realize why it was necessary to be told.
All in all it was a great book that I deffinitely recommed. And I can't wait to start the sequel!